Available to suit a variety of pipe diameters, the fully ATEX certified PPT provides pipeline operators with the information they need to verify and optimise pipeline cleaning strategies and programs.
Combining multiple layers of P2D technology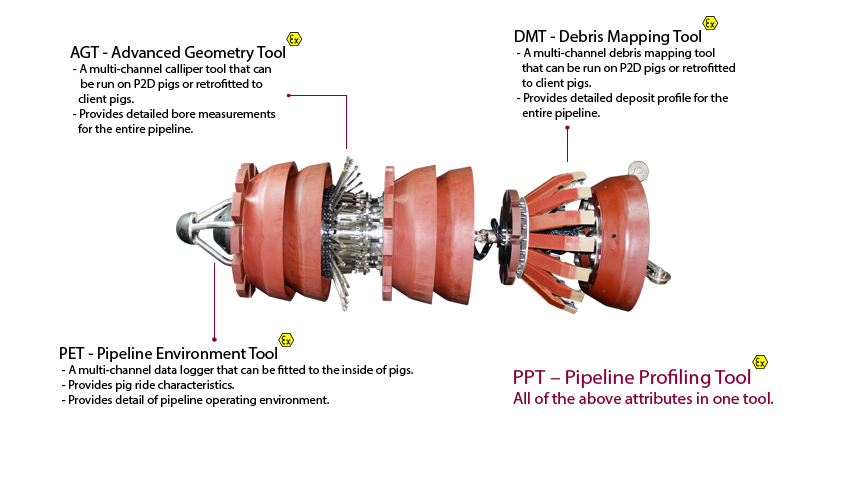 Through innovative assessment and presentation of the data, a pipeline operator can:
Verify and optimise pipeline cleaning programs
Remove uncertainty and improve understanding of their pipelines internal condition
Optimise pipeline operating costs
Promote and assess likelihood of first run ILI success
Elimination of ILI failure
Minimise pig trap operations for launch activities
Ensure safe, reliable, efficient and verified routine cleaning regimes
Reduce risk to personnel due to unnecessary exposure to pig trap operations
Periodic use of tools like the PPT form an essential part of P2D's client specific 'Pipeline Healthcare' programmes that integrate seamlessly with an Operator's flow assurance strategy.
The PPT is available in sizes 10" to 56", with retro-fitting also available.
Applications
Quantify the thickness, distribution and potential volume of pipeline debris along the entire length of the pipeline
Evaluate the efficiency of production cleaning pigging strategies with regard to pig type and run frequency
Provide a detailed operational and geometric profile of any pipeline
Evaluate the performance of standard and or specialised cleaning pigs
Evaluate the effectiveness of chemical cleaning programs
Provide a "Go/No Go" indicator before running an ILI tool
Evaluate the efficiency of pre-inspection cleaning programs, before, during and after implementation
Assess the pipeline internal condition before developing a de-commissioning campaign
Develop "intelligent cleaning" programs where routine measurement of actual pipeline conditions can be used to optimise pipeline healthcare strategies
PPT Data Examples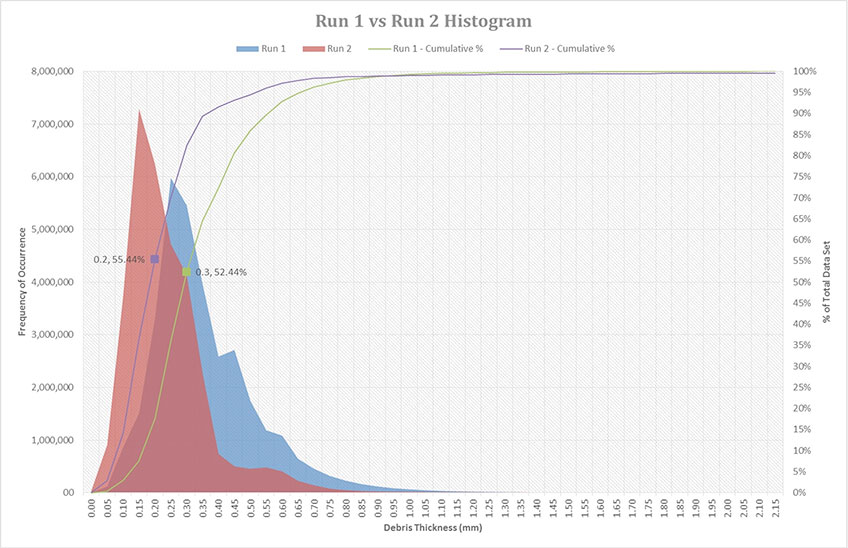 | | |
| --- | --- |
| Operating Pressure | @0-200 Barg |
| Operating Temperature | -5°C to +100°C |
| Flow Rate | 0.5 – 5m/s |
| Battery Life | 6 days |
| Data Storage | 32Gb |
| Front & Rear Pressure | 0-200 Barg |
| Temperature Reading | -10°C to +120°C |
| Tri-Axial Accelerometer | +/- 3g |
| 6 axes IMU | Accels - +/- 5g, Gyros – 300 deg/sec |
| AGT sensors | Up to 48 |
| DMT sensors | 8 – 48 |
| DMT sensor measurement range | 0-20mm |
The above can be tailored to suit client requirements.