P2D's Pipeline Healthcare philosophy offers a complete, intelligent, integrated, risk managed approach to pipeline pigging.
Through a combination of P2D pipeline pigging technologies and other expertise, major results can be achieved in the form of pig performance, pipeline cleanliness and pipeline operating conditions.
This therefore results in a far improved understanding and management of pipeline integrity.
The holistic P2D approach gives customers a one-stop, trusted solution for their pipelines.
This incorporates the full fleet of ATEX certified 'intelligent cleaning technologies and maintenance' pigging solutions.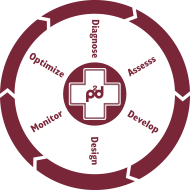 For more information on how P2D can look after your pipeline healthcare, please contact us.